HOW TO GET AN LEI NUMBER
In order to get an LEI number you must first complete an LEI number application form. Please follow the step by step guide below to the application for an LEI.
Click the Register New LEI Button at the top of the page
If you already have an account ensure you are logged in, you may also proceed as a guest.
Enter your company name and clock SEARCH. This will locate your company on a local registry.
Select your company from the list. If your companny does not appear click 'Manual Entry'.
Enter additional relevant company information so the LEI can be registered accordingly.
Proceed to checkout and complete payment.
Once your application is comete the LEI will be processed and confirmation sent to you via email.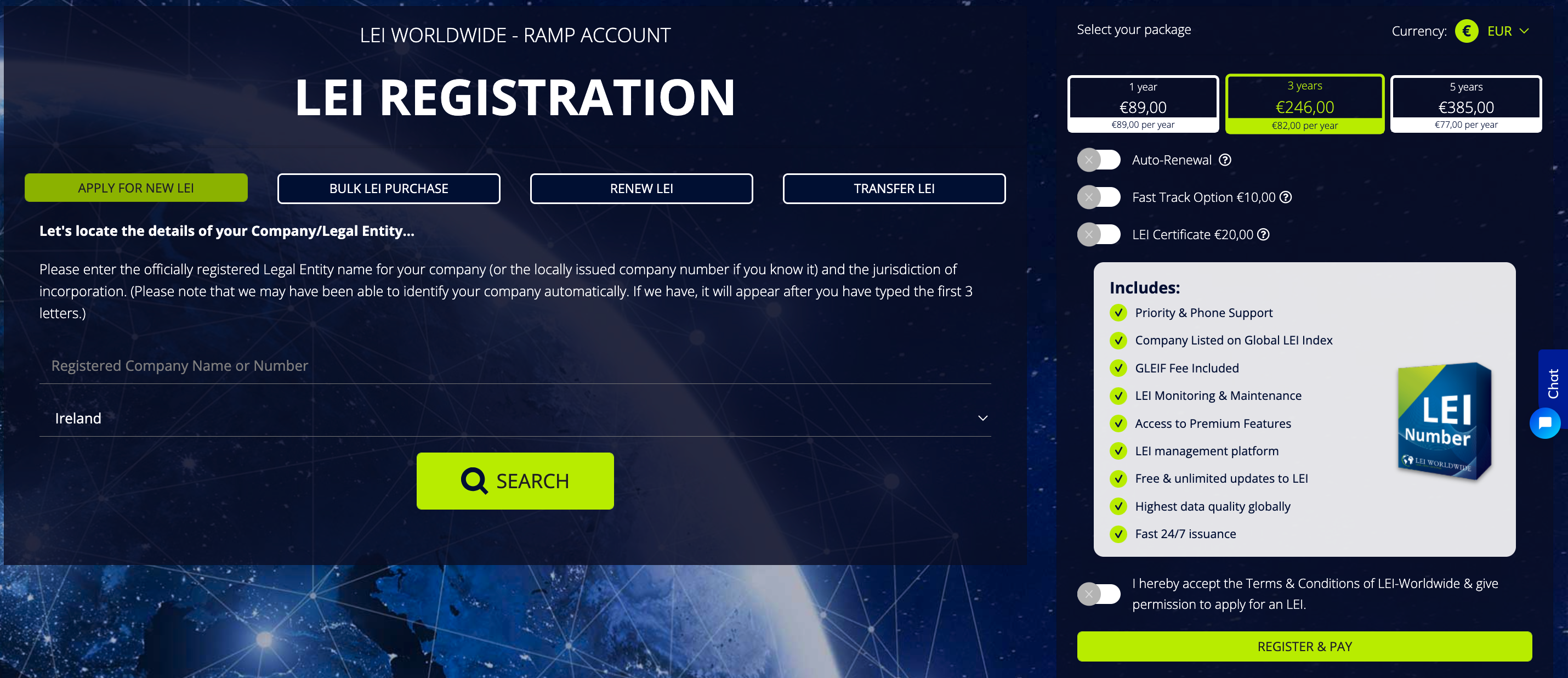 Having Legal Entity Identifier is required for companies across multiple industries globally. Here is a guide to obtaining and managing LEI Codes for your company, or on behalf of your clients.
Applying for an LEI number is simple, and can be completed in a matter of minutes regardless of the entity type, or which country you are located. The GLEIF have truly created a global product with the LEI, so if you have a UK company it can obtain its LEI in China and be perfectly valid.
LEI Worldwide system is fully global and any entity can apply for an LEI number on the LEI RAMP system regardless of its location or jurisdiction. The LEI Worldwide system is fully automated meaning thats it is connec ted to companies registries via API all around the world. This makes getting an LEI number much faster, as the LEI verification process is already completed in advance.
Previously, when obtaining a Legal Entity Identifier the applicant would have to enter all company details manually, now much of the heavy lifting has been removed from the LEI Code registration process.
In order to get an LEI number for you, or on behalf of your clients just follwo the simple step-by-step guide to the left. The LEI Registration portal will ask you for some necessary details regarding your particular legal entity, which will be used to validate the LEI data. This can be completed by anybody with access to the necessary information, or an official authoprised signatory of your legal entity. You can see a full list of the LEI requirements and documents needed in order to get an LEI number here.
Please go through the LEI checklist and ensure you have documents such as Certificate of Incorporation etc so that it will save time and allow the LEI be issued to you as quickly as possible.
Once the LEI application has been submitted in full and you have chosen your LEI package (1 to 5 years) you will receive an invoice and receipt of payment via email which will show your billing details and tax invoice details.
Our system utilises Stripe for processing credit card payments. It is also possible to pay via wire transfer, simply email the LEI support Team at support@lei-worldwide.com and requiest an invoice for wire transfer. Please use the subject line New LEI Number Application - Request for Invoice by clicking the link.
Our LEI validation team will inspect the application and as soon as the data is corroborated the LEI will be uploaded to the global LEI index accordingly. At the point of LEI issuance you will receive an email of confirmation containing your LEI number, and further details to access and instructions to sharing your LEI with either counterparties or for LEI regulatory purposes.
Based on your account contact details, you will annually receive automated LEI renewal reminders correlating to the LEI package you have chosen. For example, if you have chosen to get a new LEI numberfor 5 years you will not receive LEI renewal reminders, however if you have chosen the 1 year LEI then you will receive automatic LEI renewal reminders 60 days, 30 days, 15 days and 1 day pre and post LEI expiry.
If you have received your new LEI number from us, yo can go to LEI Renewal to extend the LEI before it expires. If your LEI was originally registered with another LEI provider then it can be transferred to LEI worldwide by completing an LEI Transfer request here.
Please note that in order to complete an LEI transfer request you will be requested to sign an LoA or letter of authorisation.
Can I get an LEI on behalf of a client?
In short, yes anybody can apply for an LEI on behalf of another entity or person. However you will be requested to show that you have authorisation. To get an LEI number for a client please proceed to the LEI application form as ususal and complete the form on behalf of your client. When prompted to enter the name of the authorised signatory please enter the name of (natural person, not another company) the individual who has authorisation to sign on behalf of the entity. In most cases, this is the company Director, CEO or legal representative.
We may contact you after to request written confirmation or to provide a list of entity authorised signatories for verification.
If you have any additional questions on how to get an LEI number, please contact our support team, or use the live chat function to the right hand side of the webpage.
who needs to get an LEI NUMBER?
In order to get an LEI number you may be wondering if you require a Legal Entity Identifier? There are over 116 LEI mandates globally which require legal entities of all types engaging in regulated financial transactions to get an LEI number. If you are regulated please check with your regulator as to whether your specific entity needs an LEI. You can find out if you need an LEI number by checking our post Who needs an LEI number?
The Legal Entity Identifier has simplified the process of identifying trade counterparties on a global scale. By using the LEI as a common identifier for all financial entities the processes of KYC, customer onboarding, AML checks and regulatory reporting have become more streamlined and efficient.
You may be required to legally register your entity for an LEI Code in order to be compliant with local regulations such as Mifid II, EMIR or to fulfill your local reporting obligations such as CSDR or SFTR and SEC regulations in the USA.
Any company that is considered a legal entity may complete a Legal Entity Identifier application and get indexed on the official LEI register. A Ltd Company, LLC, an association, funds & trusts, a charity, anything that is recognised by law to be an organisation.
Generally any company trading stock or shares, involved in securities transactions, issuing or trading debt or listed on a stock exchange will require a Legal Entity Identifier. This extends to any company in a heavily regulated industry such as insurance and asset management.
However, in the private sector more companies such as Limited Companies and Sole Traders are turning to the LEI Code even though it is not necessarily required.
(LEI) applicable to legal entities, which include, but not limited to, unique parties that are legally or financially responsible for the performance of financial transactions or have the legal right in their jurisdiction to enter independently into legal contracts, regardless of whether they are incorporated or constituted in some other way (e.g. trust, partnership, contractual). It includes governmental organizations, supranationals and individuals when acting in a business capacity[1], but excludes natural persons.
- The International Standardisation Organisation (ISO)
​This is because there are many benefits associated with having an LEI registered. It provides you with an instant credibility boost, and an internationally recognised identity card. You can also benefit from the added layer of identity security and prevent any such related errors.
The global LEI system (GLEIS) is not just a regulatory burden. The LEI has multiple business use cases included KYC security, fraud detection, anti-money laundering and new use cases including blockchain technology are currently being explored to allow the streamlining of regulatory reporting. The LEI number application process is laid out in the steps at the top of this article.
Examples of entities that have mandatory LEI requirements, are all financial intermediaries, funds and trusts, banking institutions and financial institutions, any legal entity that is listed on a stock exchange or that issues debt, securities or equity.
Do I need a Legal Entity Identifier? LEI codes are required if your legal entity falls into (but not limited to) one of the following classifications:
Financial intermediaries (CSDs)
Banks, investment companies and lenders
Trade OTC derivatives (except private individuals)
SMSF (Self Managed Superannuation Funds) traders and trustees​
Investment Vehicles, mutual funds, hedge funds
Pension schemes & Commodities trading
CFDs (Contract for Differences)
Securities transactions, SFTR reporting​ & Entities listed on a stock exchange
ABOUT LEI WORLDWIDE
LEI Worldwide is an Official GLEIF LEI Registration Agent (RA), and the first RA providing LEIs on a global basis since 2017. Our approach since inception has been focused on providing high quality customer service and helping our clients manage large portfolios of LEIs.​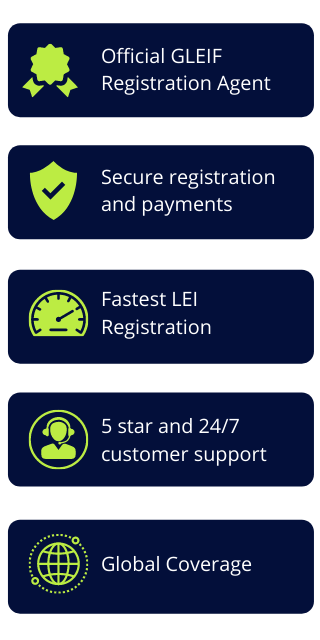 LEI Worldwide was formed to help some of the worlds largest organisations meet their regulatory requirements, with emphasis on the updated Markets in Financial Instruments Directive (MiFID II) & regulation (MiFIR) and to assist entities in the process of obtaining an LEI number.​​
There are over 144 pieces of legislation globally mandating the use of the LEI. If your firm is subjected to regulations such as MiFID II transaction reporting obligations, you will require a UK Legal Entity Identifier number or you will be declared ineligible to execute a trade in the UK.​
This could mean a no trade ruling or financial penalty "no LEI, no trade" as the saying goes.
In order to meet the demand, and the volume of firms applying, LEI Worldwide have created a designated state-of-the art, proprietary LEI registration and management portal called RAMP 2.0 (Registration Agent Management Platform) which streamlines and automates the process, ensuring timely registration and ease of LEI portfolio management.
We cater for companies from anywhere in the world and those who are seeking a Legal Entity Identifier from all countRIes. By co-operating LEI issuing organisations, and uniquely providing global access, we bring our clients the fastest and most comprehensive LEI solutions available on the market.
We aim to fulfill our mission of providing a first class service which will facilitate the global conformity to the ISO 17442 standard and GLEIFs mission to fulfill "One identity behind every entity".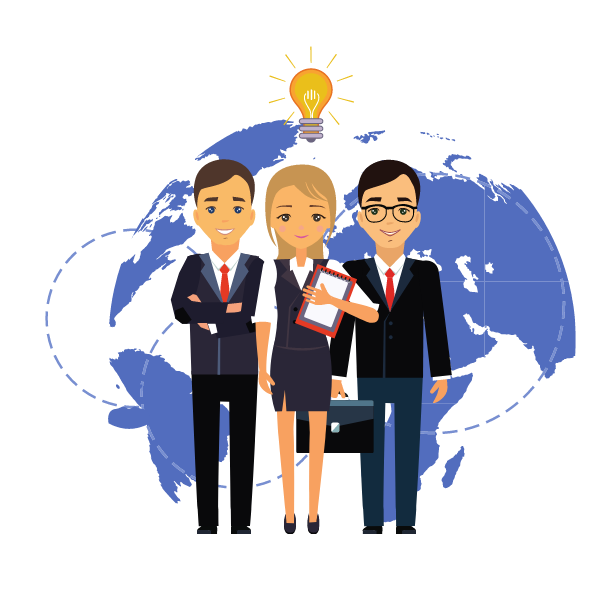 @livewireAssets