Published on 11 October, 2022
By LEI Worldwide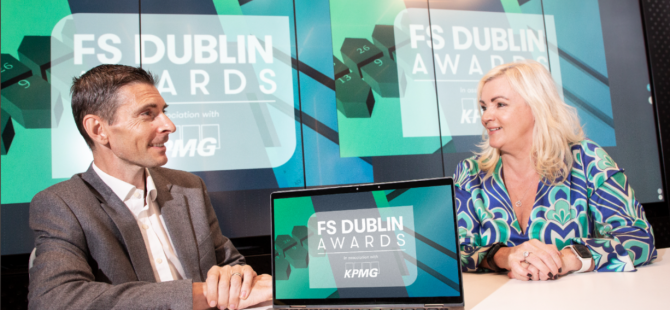 Financial Services Awards 2022
The first iteration of the FS Awards will take place in the Mansion House, Dublin on the 27th October 2022. In partnership with KPMG, Ireland INC and Business & Finance, this event is geared towards thought leadership, networking and enabling connections. It is an opportunity to inspire and influence FS organisations to reach higher levels at the FS Leaders Summit, where the brightest minds in the field explore the sector's reinvention and the challenges of the modernisation of finance, investment, regulation, banking, and payment services will bring.
Ian Nelson, a member of the judging panel and Head of Financial Services and Head of Regulatory at KPMG, said:
"The financial services industry in Ireland is a vital component of our economy, and we are pleased to support the recognition of businesses, groups, and individuals who have made significant contributions to Ireland's status as one of the world's top financial services hubs. These awards provide the industry with a great chance to highlight market-leading activities in banking, payments, insurance, asset management, and the ever-expanding fintech sector. We also anticipate recognising noteworthy achievements in sustainability, diversity and inclusion, areas that are crucial to the industry and important to KPMG."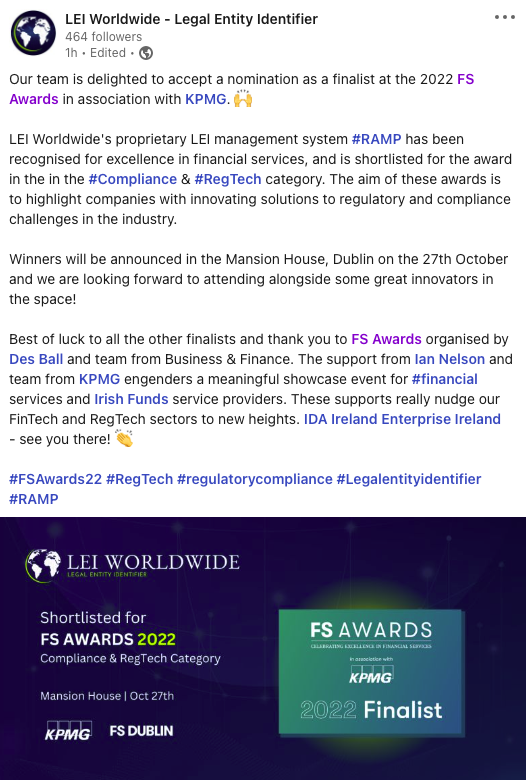 COMPLIANCE & REGTECH AWAR
LEI Worldwide have been nominated among 4 other finalists for the Compliance & RegTech Award. Coming off the back of a strong year, having won awards from Irish Funds "FinTech Factor" and Most Innovative RegTech from Weakth & Finance International, LEI Worldwide are a strong contender with proprietary LEI Management software solution, LEI RAMP.
This award recognises company providers who are increasingly finding solutions to help with regulatory & compliance challenges, and span a wide range of regulatory requirements.
Our judges are looking for RegTech solutions designed to significantly improve the regulatory response and provide efficient and effective compliance.
LEI Worldwide have helped FIs maintain and manage their LEIs since 2017. Latest product, RAMP enbables financial institutions to consolidate a fragemented lEI portfolio increasing visibility, management controls and reducing the 'renewal risk'.
There are currently over 116 pieces of legislation mandating the use of the LEI. Many banks, law firms and asset managers are required to obtain LEIs on behalf of their clients. RAMPs state of the art engine makes it easier to apply for LEIs. The RAMP engine uses API connectivity to company databases such as the UKs Companies House, Irish CRO, RCS Luxembourg etc providing full automation and company auto-fill in over 20 countries. For countries that are not on the list of fully automated, manual entry is possible.
RAMP has many new features such as the 'My LEIs' dashboard which become available as soon as you have logged into your account. By creating a RAMP account and importing all your LEIs for free you can effectively and quickly:
Reduce operational risk
Consolidate a fragmented LEI portfolio
Have global coverage for LEI registration
Provide LEIs to your clients
Track clients LEIs using watchlist
Import or transfer a large and disorganised LEI portfolio in one quick step
Add members to your account
Add multiple billing details and addresses
NEXT ARTICLE
UNDP, and MAS to digitise ESG Credentials for MSMEs leveraging the LEI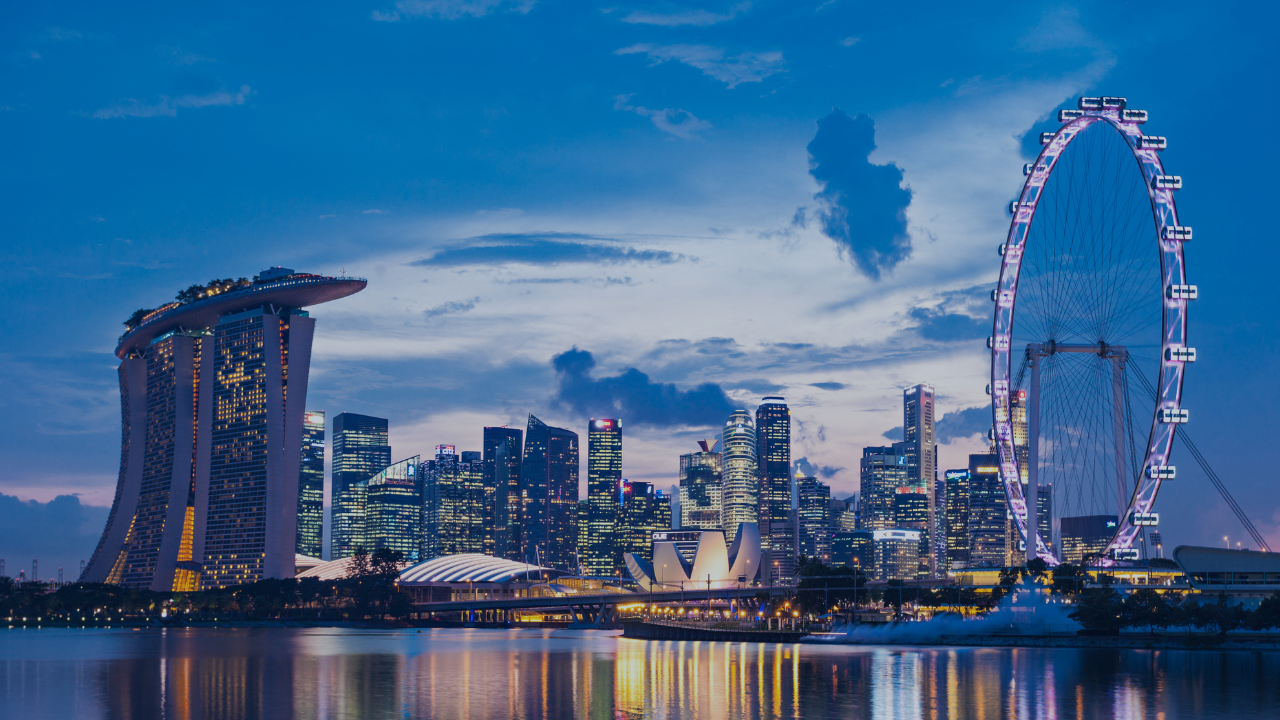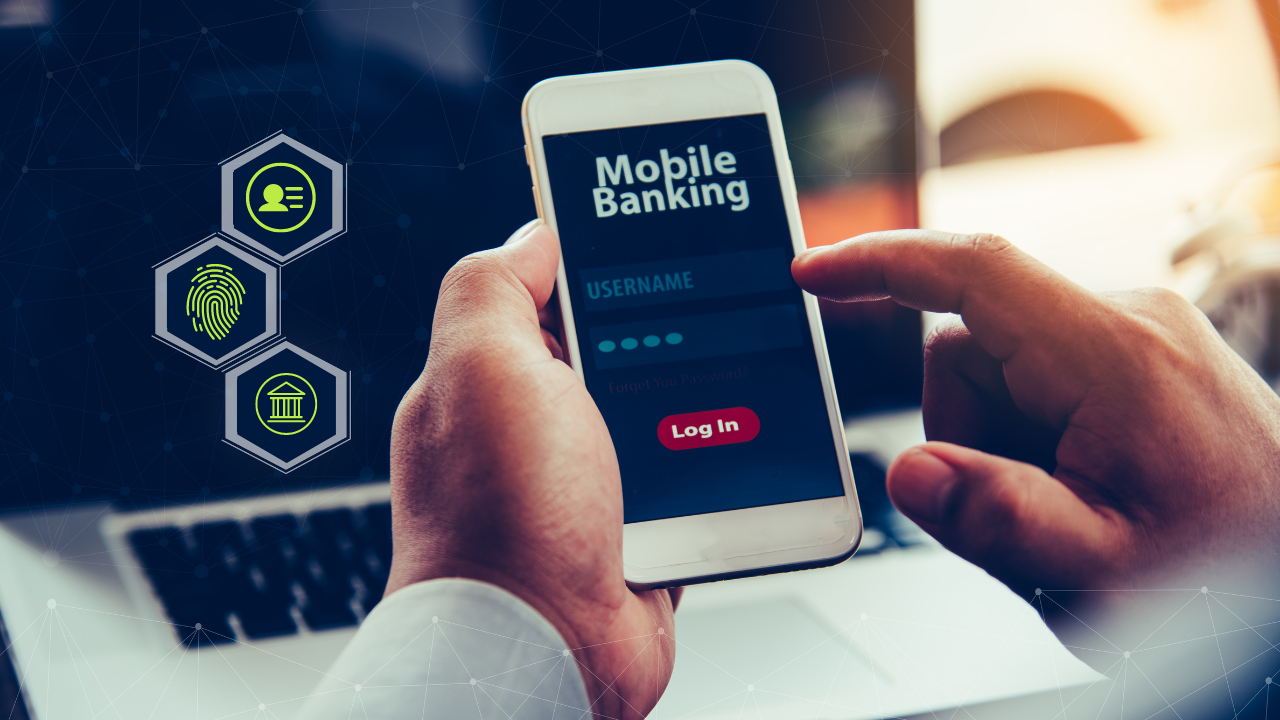 South Korea to adopt LEI for foreign investors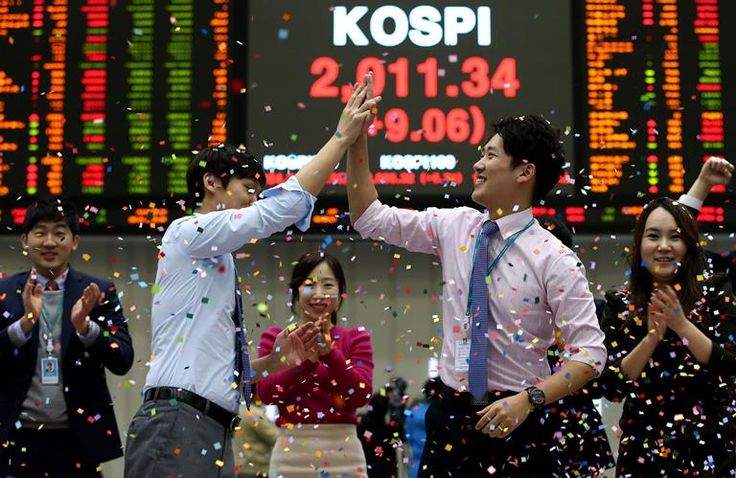 The UK introduces new Electronic Trade Documents bill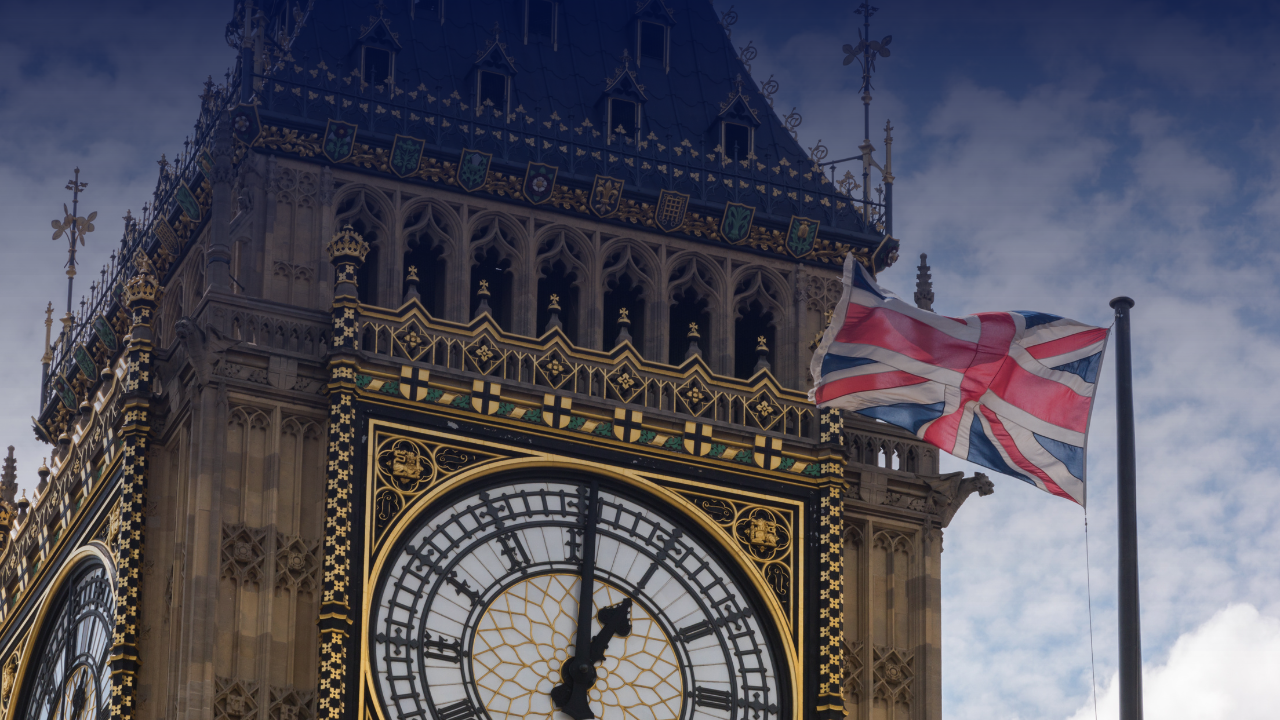 Tips for managing an LEI Portfolio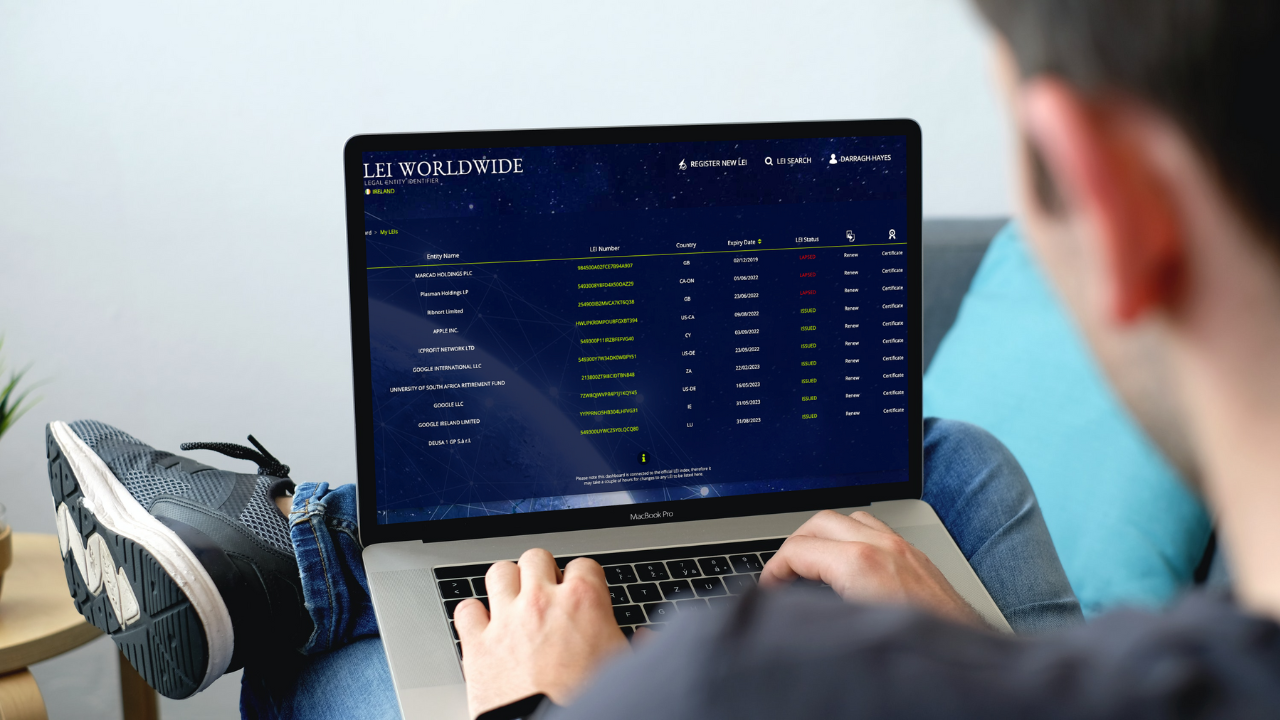 LEI Registration for Companies, Financial Institutions and Banks