The Global Legal Entity Identifier System (GLEIS) is the first global database providing unique identification information of legal entities participating in financial transactions all across the globe.
The database forms an index of legal entities which is publicly accessible and completely free of charge to use. Each entity in the LEI database is assigned its own, unique 20 digit code by which it is identified in many business activities and transaction reporting systems.
This code is based on ISO 17442 standard and is known as a Legal Entity Identifier (LEI number).
"The LEI system connects the dots to create a visual representation of the global financial marketplace, moreover it provides security and transparency to its participants and regulators." – Darragh Hayes, CEO
You can access the Global LEI System here via the LEI Search Tool.
The LEI is a G20 endorsed, globally verifiable unique identity code. Similar to a global business passport, or an IBAN in banking terms, the LEI code reveals a record with information about a company such as its identity and group structure. Each LEI number is unique and may be obtained by any organisation in the world e.g Limited Company, Fund, Trust etc.
The LEI is based on ISO Standard 17442 and is currently being adopted as the single most important identifier in the global financial ecosystem as it is used by regulators to reduce systemic risk and easily identify parties in any transaction.
The LEI Legal Entity Identifier is an ISO standard that has been adopted to increase transparency in financial markets and transactions between counterparties.
​An LEI Code contains reference data on a company such as:
Entity name
Entity Registration ID
Legal Address
Status of LEI Code
LEI Issuer
The LEI structure according to image from GLEIF below consists of 20 Alpha-numeric digits each with their own purpose in the systtem.

In 2008, the Global Financial Crisis and collapse of Lehman Brothers precipitated a network effect that accelerated rapidly throughout the global financial system. After the first domino fell, institutional investors throughout capital markets scrambled to assess the extent of their exposure to the bank and its labyrinth of subsidiaries.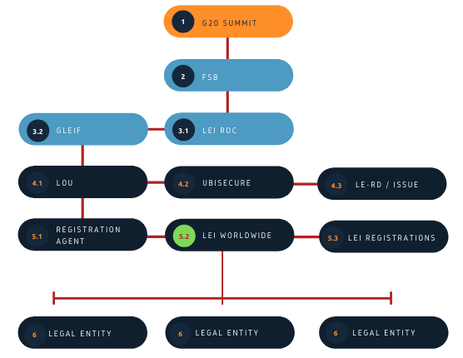 The Financial Stability Board (FSB), appointed by the G20 devised a Global Legal Entity Identifier System (GLEIS), which is maintained by GLEIF (Global LEI Foundation), with governance and oversight provided by the LEIROC (LEI Regulatory Oversight Committee). LEIs are used today to identify market participants in financial transactions, thus allowing for more transparent marketplaces and enabling clear identification of compaies participating in financial transactions globally.
The LEI system also has numerous other benefits to Anti-Money Laundering activities (AML), Know Your Customer (KYC) and client onboarding and enhances counterpart identification in financial transactions such as securities trading.
Since the LEI was introduced, there have been over 115 regulations that require certain organisations to obtain an LEI code across different jurisdictions and industries both municipally and commercially.
Having a Legal Entity Identifier, or LEI code is mandated by EU, US and many other countries regulators in order to engage in financial markets activities e.g securities trading or derivatives.
LEIs are required by Limited Companies, funds & trusts, banks, lenders, OTC Derivatives and securities market participants, pension funds and any regulated industry.
There are a number of mandates currently in existence which state "no LEI, no trade" as the phrase was coined by ESMA (European Securities & Markets Authority). The LEI is heavily relied upon in EU market a number of directives such as EMIR , MiFIR & MIFID II.
However, the US also have similar requirements such as the Dodd Frank Act, the OFR, the Federal Reserve and the Securities & Exchange commission (SEC).
To see a list of laws in your country visit: https://www.gleif.org/en/lei-solutions/regulatory-use-of-the-lei
Types of organisations that require an LEI (not limited to):
​Financial intermediaries (CSDs)
Banks, investment companies and lenders
Trade OTC derivatives (except private individuals)
SMSF (Self Managed Superannuation Funds) traders and trustees​
Investment Vehicles, mutual funds, hedge funds
Pension schemes
Commodities trading
CFDs (Contract for Differences)
Securities transactions, SFTR reporting​
Entities listed on a stock exchange
International Branch offices (The Head Office must already have an LEI)**
In order to apply for an LEI code please set up an LEI RAMP 2.0 account and choose the option 'Register new LEI'.
The LEI application form is valid for all countries and entity types. The LEI application process should only take a couple of minutes and can be performed by anybody from your organisation, or on behalf of an organisation.
To get an LEI code you will need to provide basic company information such as:
Legal company name
Registered address
Company ID
Name of the authorised signatory (e.g Director/CEO)
Supporting documents (examples of this include Articles of Association, Certificate of Incumbency, Trade Licence, Certificate of Incorporation etc.)
LEI RAMP 2.0 (LEI Registration Agent Management Portal) is a brand new state of the art LEI management system designed by LEI Worldwide. Harnessing the power of APIs, machine learning and interoperability, LEI RAMP is connected to business registries and around the world.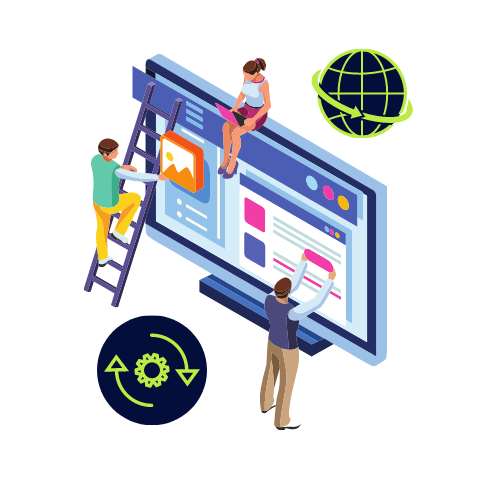 The first of its kind for any RA, LEI RAMP offers automation and instant issuance times for LEIs in many countries, and most importantly it has global coverage meaning any entity can register, renew or transfer their LEI using LEI RAMP 2.0 no matter what country that entity is based.
Our engineers have built LEI RAMP from scratch LEI applicants in mind. LEI RAMP offers a more powerful LEI management system than previously and provides global coverage.
One of the key features of LEI RAMP 2.0 is that through a secure company account, it allows our clients to enjoy a seamless LEI issuance, renewal and transfer process, and most importantly easily manage a large portfolio of unlimited LEIs.
LEI numbers require annual renewal in order to maintain data quality and up to date LEI records in the LEI database.
You can easily renew an LEI code from your LEI RAMP account. LEI Worldwide will automatically issue LEI renewal reminders 60, 30, 15 and 1 days from the due renewal date. Your bank may also inform you that your LEI number is due for renewal / has lapsed.
In order to renew an LEI please login and visit the RAMP dashboard and choose 'LEI Renewal' from the options.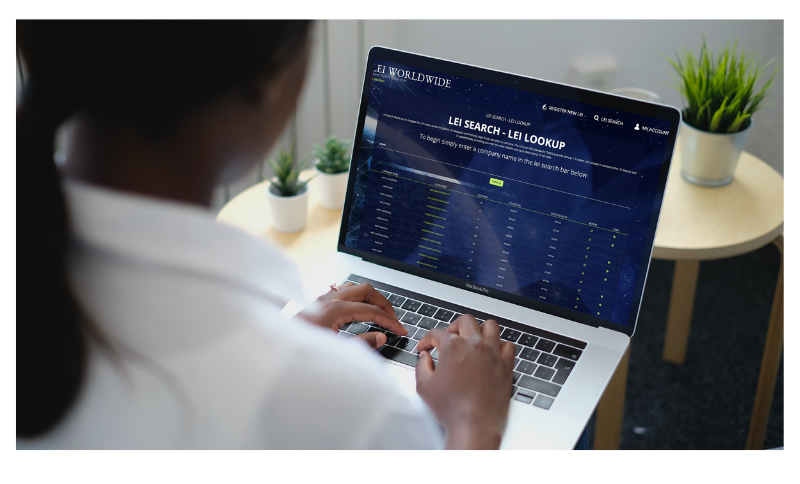 The LEI search tool we provide is connected to the GLEIF LEI index via API which is the official, fastest, & most accurate way to check on the current status of any LEI.
You can use this tool to find up to date, accurate entity information and conduct a thorough LEI check by clicking the 'LEI Search' button on the top of the page.
LEI Search allows you to navigate the LEI index, access the global LEI database and find any Legal Entity Identifier in real time.
Should you wish to find out more about any company, an LEI search will provide important data about the company, including the legal name, address, registration ID and status of the LEI (active/lapsed).
The cost of registering an LEI is based on the number of years chosen. Multi-year LEIs are suited to longer term companies as they are the safest way to protect against a lapsed LEI.
You can register an LEI for 1, 3 or 5 years and the multi-year LEI contains a discount. We promote the use of multi-year LEIs in an effort to ease the administrative burden of renewal and reduce the risk of allowing an LEI to inadvertently expire. Companies change staff, people move around, often times companies forget to renew and they can be met with a huge fine as a result.
The prices below are in Euro (although we offer a large range of currencies for the equivalent price):
| | | |
| --- | --- | --- |
| 1 year | 3 years | 5 years |
| 89 | 240 | 380 |
| 0% discount | 8% discount | 15% discount |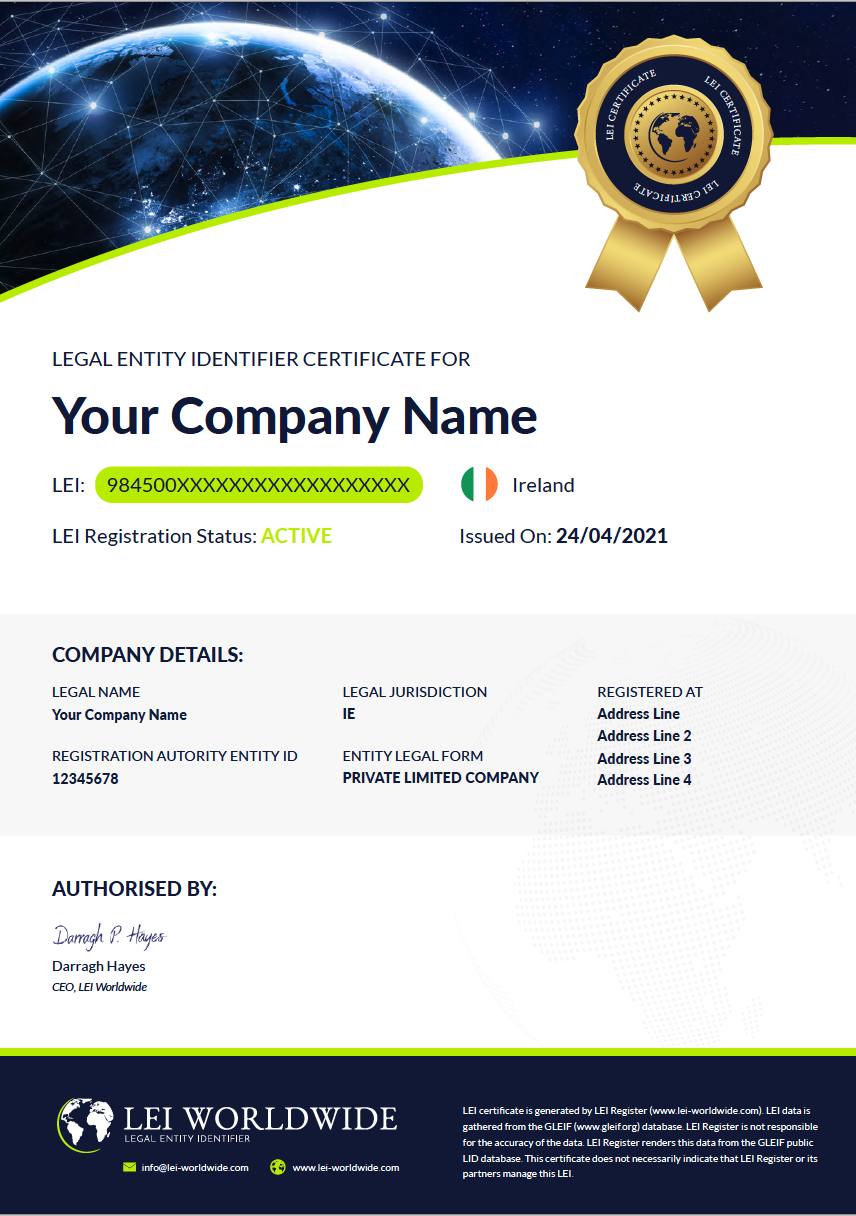 An LEI Certificate is a downloadable, printable evidence of your status as a registered legal entity. It contains relevant information about your company and successful LEI registration status.
The LEI Certificate allows you to provide a hard copy of your LEI in PDF format to your bank or financial institution.
The benefits of being able to prove your identity globally, in a single document are immeasurable.
Previously, this was done by providing your Certificate of Incorporation, or registry extract but this is not recognised in foreign countries – LEI Certificate is global.
In order to obtain an LEI you may be requested to provide certain documents. The information required to receive an LEI will be easily accessed by a member of your organisation, especially somebody in the head office.
You will need to show the following information:​
Registered name of the Legal Entity
Registered address
Country of formation​
Company registration number
Company Director
Examples of such documents are different for each country or State, but include a Certificate of Incumbency, Articles of Association, Trade License, registry extract or company extract, Register of Directors, Company Constitution etc.
The LEI is globally standardised meaning each LEI follows a strict format as it is based on ISO Standard 17442.
Each LEI is composed of a 20 digit alpha-numeric code. However all 20 digits are not random.
Numbers 1- 4: Belong to the LOU or LEI issuer.
Numbers 5-6: These are check digits and always appear as 00.
Numbers/letter 7-18: These are systematically generated by the LOU and is unique to each legal entity.
Numbers 19 – 20: These are checksum digits for validation.

Once your application is fully submitted you can expect your LEI confirmation email within 24 hours (Mon - Fri).
​Please note, if information is missing, or incorrect on the application this may cause a delay. A high volume of requests may also impact the LEI issuing timeframe.
Some countries have automation meaning the Legal Entity Identifiers are issued instantly. This includes the UK, Luxembourg, Netherlands, Australia, Germany, Singapore and Denmark.
An LEI transfer is the act moving a Legal Entity Identifier LEI from one service provider to another. This allows the entity to choose which service provider they want to use based on service quality, price or other factors.
If you have had an LEI issued with another LEI service provider, you can transfer that LEI to LEI Worldwide free of charge. If you would like to renew an LEI that is currently with another LEI service provider you will be required to transfer it first.
Please note that LEI Worldwide may contact you to obtain a written signature to confirm authorisation and proceed with the transfer.
No the LEI is a global system and an LEI can be applied for on LEI Worldwide in any country. You may obtain an LEI code from and LEI provider located outside your country of residence, or a country outside the legal jurisdiction of the legal entity applying.
GLEIF is an international organisation endorsed by the G20 countries and created by the FSB - Financial Stability Board. GLEIF is responsible for the creating the Global LEI System, monitoring LOUs and facilitating the global mass adoption of the Legal Entity Identifier LEI.
​The headquarters of GLEIF are located in Basel, Switzerland. The website of GLEIF can be found at www.gleif.org. LEI Worldwide are an officially recognised GLEIF Registration Agent.
In the LEI ecosystem a Local Operating Unit is known as an LOU. The LOU is responsible for allocating LEI numbers once they are applied for through an Official Registration Agent such as LEI Worldwide.
LOUs often have close working relationships with Registration Agent's (RAs). LEI Worldwide have formed a strategic partnership with RapidLEI which allows us to provide the LEI Management Portal (LEI RAMP) utilise the RapidLEIs LEI allocating software.
LEIs require annual renewal under most regulations requiring an LEI such as MiFID II and EMiR.
Much like your car insurance, the LEI needs to be renewed to keep it up to date for data quality purposes.
If the LEI is allowed to expire it will become LAPSED. Once an LEI is renewed it will show as ACTIVE again.
A LAPSED LEI may have legal repercussions and the owner of the LEI can face financial penalties. Morgan Stanley were recently fined by the Commodities Futures Trading Commission (CFTC) for this very reason.
Investment service providers and Banks will often be requested for their clients LEI numbers. If these LEI numbers are not valid, they mace face penalties, or a no trade ruling.
Many financial institutions, banks, state bodies and semi-state bodies support the LEI initiative and have a mandate that all clients and customers must have an active LEI (Legal Entity identifier). You can find that list by clicking here. To avoid complications with your banking institution or regulatory body we recommend maintaining an active LEI code.
Any entity considered a legally registered entity may obtain an LEI code. Over 98% of LEI applications are accepted. There are some cases where an LEI is not applicable, for example an individual person, or group of people may not obtain an LEI number. In the case of some large companies, certain divisions within that company may not apply for an LEI number either.
However, different branches of the same entity may apply separately given that the branch is located in another country. Branches in the same country should operate under the one umbrella LEI code. Individual persons may also not apply for a Legal Entity Identifier. If you have a specific request about a particular entity, or individual requiring an LEI code, please contact our support team for advice.
Yes. A third party can apply for an LEI on behalf of another company. You will be requested to provide the name of the signing authority and supporting documentation.
You can register an LEI onbehalf of your client or company if you are:
An authorised signatory or representative
Have permission to apply from an authorised representative
We may request evidence of the name of the authorised person by way of a validation document.
The benefits of having an LEI Code for your organisation extend beyond just regulatory compliance. By registering for an LEI, your organisations international recognition and trading credibility is increased immediately. Investors, customers and potential stakeholders can locate your essential data in real time which will allow you to prove you are a real entity, and also avoid any identity based errors. If you already have an LEI number assigned you may qualify to apply for an LEI certificate.
Likewise, you can benefit from the added layer of security that comes from knowing exactly who you are dealing with. ​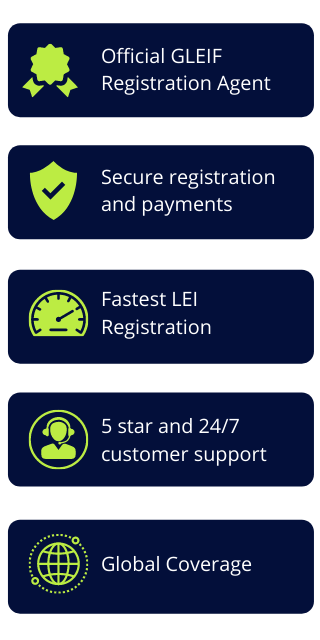 LEI Worldwide are an Official GLEIF Registration Agent providing LEI management services globally since 2017.
As one of the first companies of its kind, LEI Worldwide is managed by a team of highly experienced professionals who work closely with some of the worlds biggest brands to protect their reputation through a network of trust that has been carefully developed over the years.
The LEI RAMP system is the only RA platform offering global LEI registration and a login feature allowing users to serf-manage their LEI portfolios. Its capabilities to offer LEIs in every country, speed of issuance and automation and superior user interface make it the LEI system of choice for financial institutions.
Our system is integrated with companies registries around the world including the Companies House in the UK, the US, Germany, Nordic regions and beyond.
It is trusted by thousands of customers globally who handle their LEI requirements seamlessly in an environment of trust. Trust is the bedrock of the entire LEI system, and it is the main pillar of our foundation.
To find out more or get in touch please contact [email protected]