A guide to
LEI SEARCH 2.0
The LEI Search Tool is how you can check on an LEI Number and use it to look up Legal Entity Identifiers in real time.
The LEI Checker may be accessed by any interested party and used to search for LEI codes, or to find out about another legal entity. To conduct an LEI search begin by reading below.
LEI SEARCH TOOL 🔎
The LEI checker is the fastest, & most accurate way to check on the current status of any LEI.
To conduct an LEI number search, simply access the GLEIF LEI Look Up by clicking the LEI Search button above.
You can use this tool to find up to date, accurate entity information and conduct a thorough LEI Check.
LEI 2.0 refers to the updated functionality released by GLEIF with their own LEI search tool which can be found here.
How to use LEI Search 2.0
The LEI number look up tool can be used by any interested party, regulator, client, investor etc. The LEI Search Tool 2.0 has enhanced features and functionality which allow you to filter through jurisdictions, entity types, legal forms, organisation structures and many more. The 'expert mode' features can be explored to analyse groupings of legal entities or collect large amounts of LEI data and extract.
An LEI record will provide you with basic information on any given entity such as:
Registered name (plus trading as names)
Registered Address
Company registration number​

Company type (e.g Limited Company, Fund, Trust)
Parent company information
Children company information
To begin your search visit the GLEIF Look Up tool (link at the bottom of this page). Think of a company you have in mind, or simply navigate the database freestyle to check it out.
- LEI Worldwide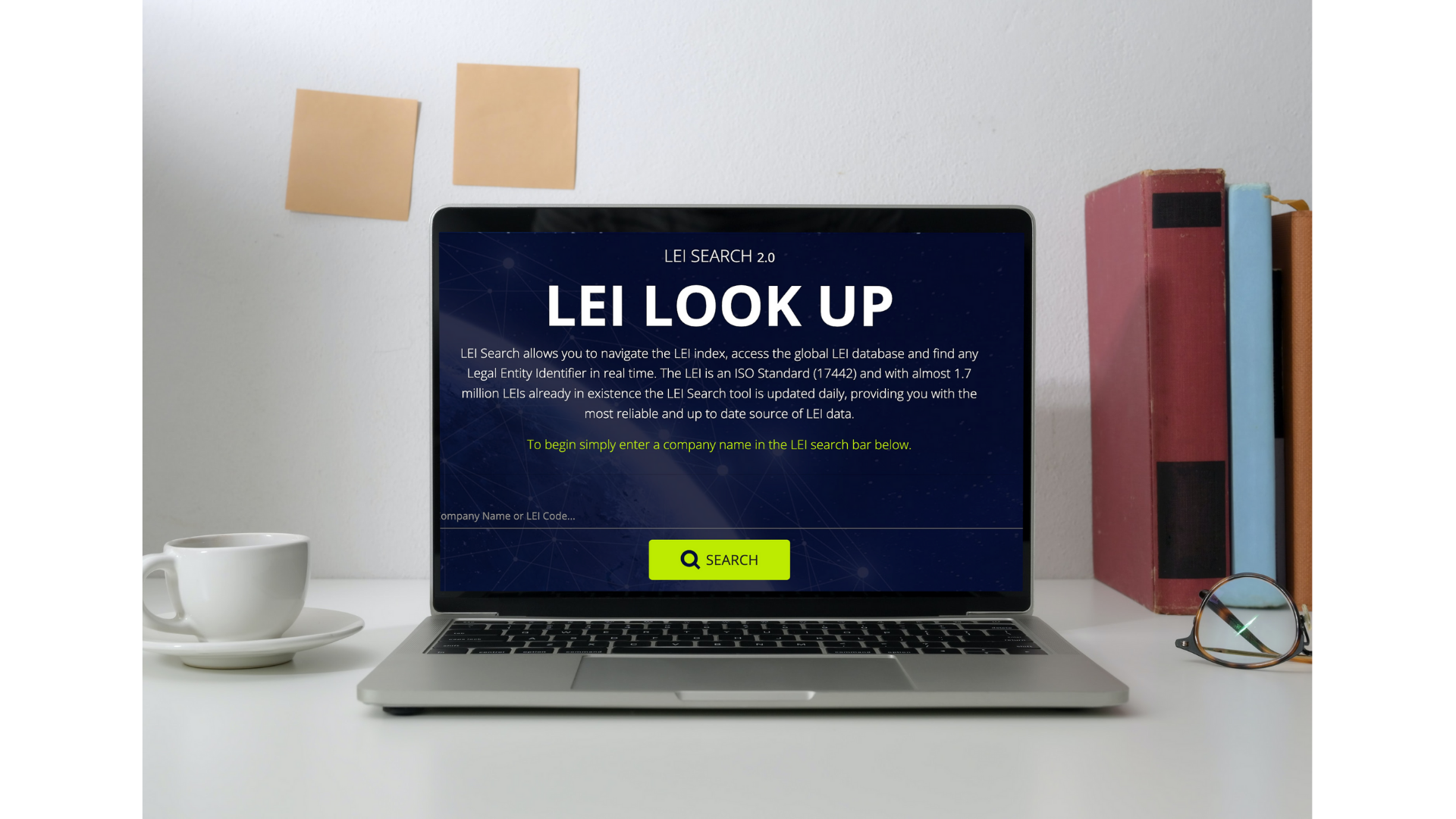 To begin your search visit the Look Up tool.
For example use the name of your own company or a company that you already know and search for it.
If you do not find the result you are looking for, or you are looking for a certain group, category or type of company, in a certain region for example, you can switch on expert mode.
Use expert mode to conduct a search by combining multiple search filters. We suggest playing around with this for a while until you get the hang of it.
Using expert mode, you can conduct very granular searches. For example, if you want to find a list of Limited Companies in your city, or entities registered at a particular address.
Expert mode filters:
LEI Code / Add to favourites / Wishlist
Jurisdiction
Entity Type / Legal Form
ISIN Code or other identifier
Company status, expiration date, registration date
More also available
The LEI search tool is not just used by regulators, or financial institutions for reporting and compliance obligations. The beauty of the LEI is that any company can easily integrate an LEI check as part of its KYC processes.
what is lei status?
In order to understand the LEI status we need to know that an LEI is the only global identifier that requires annual renewal.
Annual renewal of an LEI code ensures that the data within each record has recently been updated and can be counted on as being up to date. If an LEI has not been renewed in the last 12 months is will be shown as Lapsed.
LEI Issued: The LEI data has been renewed within the last year.

LEI Lapsed: The LEI data may be out of date and data quality cannot be guaranteed.

There are over 116+ LEI regulations mandating the use of an LEI globally and many regulation required counterparties to transaction to maintain an active LEI number. For example the FCA mandate the use of the LEI Number in the UK and keeping it active.

Previously, if you were communicating with a company from across the world, you had to rely on information provided by their website, or local registry listings to find out who they were. This can cost valuable time and resources and much registry information may be in another language, or that country may have strict privacy regulations with regards to data they can provide.This also made it difficult for banks and other institutions to onboard new clients as KYC practices were relying on old and unconsolidated data.

Now, when dealing with another company, checking if they have an LEI is a sure way to know they exist and are who they say they are.

In many instances, the LEI checker can provide an organizational structure or parent information. For example, by looking at the LEI of Alphabet Inc, you can easily see that it owns Google and the family tree and all subsidiary entities associated with the global corporation.

​Registry information can be hard to access and needed to be collected into a single database. Lacking a reliable, trustworthy identifier it could become laborious and costly to onboard new clients and confirm identity (it is now estimated in research conducted by McKinsey that the LEI could save banks up to 2-4 billion Dollars annually in KYC processes).

History of the LEI: Following the 2008 market crash, issue with transparency in the markets caused a litany of issues with regard to identifying counter parties in transactions. When the stock market crashed, thousands of funds and trusts were unidentifiable and the fall resulted caused mass confusion. The lack of transparency put financial institutions and banks in a vulnerable position.

This was addressed at the G20 Summit of June 2011, who created the concept of the LEI. The idea was to create a digital database, of all legal entities which was easily accessible, reliable and up to date.

What is an LEI number used for? LEI Codes are simply used to identify legal entities on a global scale. This allows for great transparency in financial markets, standardisation, and greater risk control.​

According to LEI ROC the LEI no. was conceived to be used by the private sector to support improved risk management, increased operational efficiency, more accurate calculation of exposures, and other needs.

​

Cant find your LEI Code?

Don't worry.. Our team are experts and will help you locate any LEI code, if it exists we will find it. In many cases companies cannot find their own LEI codes, our team are very experienced in navigating the LEI database and will be happy to help you conduct KYC checks free of charge.

What information is shown on an LEI record?

LEI reference data is separated into Level 1 data and Level 2 data.

Level 1 data refers to the entity's legal name, country, ID number, legal address.

The Level 1 data includes the registration details including an initial date of registration, next renewal and managing LOU (Local Operating Unit). Most importantly it outlines if the LEI code is issued or not.

The Level 2 data includes information about an entity's parental structure - its direct and ultimate parent. A separate tab that displays a log of changes made to the LEI entry can also be found, which will allow you examine amendments or additions more closely without having search through all previous records looking for ones with similar text input into their names!

When using the LEI search feature, it is easy to find any legal entity with just a few clicks. If you enter an incomplete or unknown code for another corporation's identity, this tool will automatically offer suggestions based on what was inputted into its system before.

Finally but importantly - if one enters their company name in addition to providing some additional identifying information like corporate standard-bearers (i e., articles of incorporation), then there are four different options available which include "left" as well as other common words relevant specifically towards businesses such as entity type e.g Limited Company or Fund.

@livewireAssets